In this report we seek to shine a light on a secretive, highly regarded HFT firm.. Hudson River Trading.
Hudson River Trading (HRT) was founded by Jason Carroll, Alex Morcos and Suhas Daftuar in 2002. Jason and Alex worked together at Tower Research. Jason has remained as an active partner within HRT however Alex and Suhas left in 2012 and established Chaincode Labs in 2014. According to their website Chaincode is a research and development centre focused on improving the Bitcoin network.
Currently, HRT has three active partners.
Oaz Nir Responsible for developing the trading algorithms
Prashant Lal Responsible for growth into new markets
HRT acquisition of Sun Trading
HRT bought Sun Trading in 2018 as they expanded from proprietary trading to providing liquidity through a single dealer platform in the US and a Systematic Internaliser in Europe. Following the acquisition, they renamed Sun Trading's Legal entity to HRT Execution services and the proprietary trading business remained HRT Financial LP. HRT Execution provides pricing on US and European Equities as well as US treasuries.
HRT, along with XTX Markets and others, are aggressively growing their execution businesses having seen the success of the market leader, Citadel Securities. In the US, HRT has 145 registered traders with 63 connected to the execution business and 82 registered with the prop business HRT Financial. This suggests the execution business in the US, at least in terms of headcount, is almost as big as their prop business.
HRT Employees
Hudson River Trading currently employs 463 people across nine global locations. The majority of staff are based in the US with just over 10% in Europe and 5% in Asia.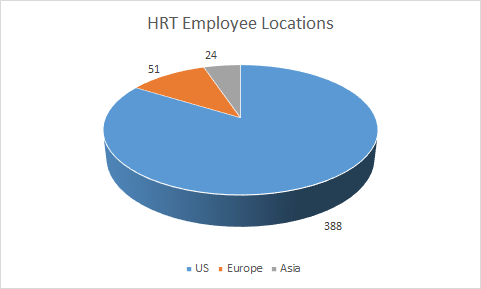 Functional Expertise
HRT calls their quants and traders, Algorithm Developers rather than strategists or traders (probably stemming from the founders tech backgrounds). The breakdown between investments, tech and back office is similar to other quant trading firms with roughly 38% in an investment role, 37% in a technology role with the balance in back office and support.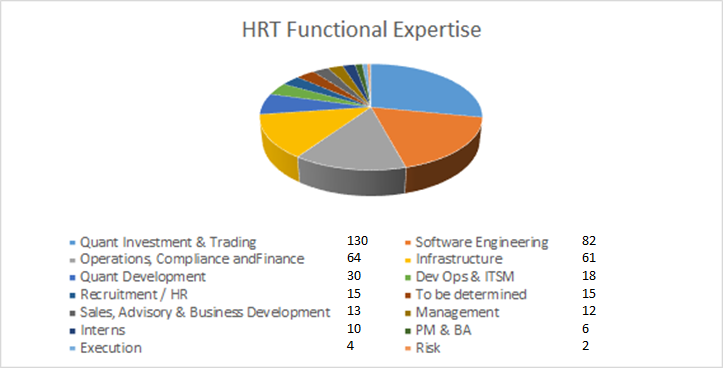 Education
HRT has a successful and established campus recruitment program and tends to recruit directly from top tier Universities. The list below shows the Top 10 Universities HRT employees attended.


HRT Growth
We analysed HRT's career site over the past 6 months and found the following. We should caveat that the job postings for front office positions are pretty static which is a fair reflection of their actual front office hiring.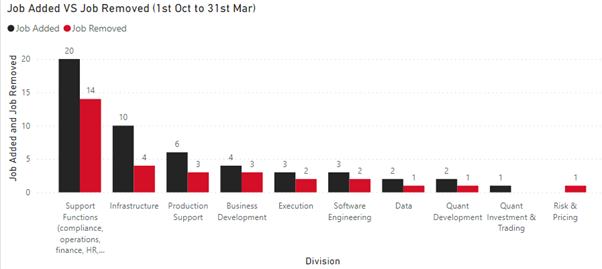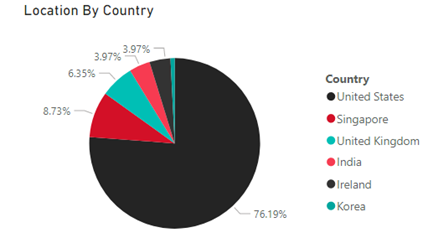 Summary
HRT has grown considerably over the last 2 years adding over 170 people. These numbers will include some from the Sun Trading acquisition in 2018 however it's mostly through organic growth. They are expanding in India, Singapore, Korea, Europe and continue to grow their base in the US.
There are whispers on the street that HRT made over $2bn in PNL last year. Granted the environment was very favourable for HFT strategies but that is a pretty big war chest for growth in 2021. They are not alone in making huge numbers last year though and others will be trying to dent their progress. Game on for 2021 !!