China is continuing to reform its financial markets and open to foreign financial institutes. This was the message delivered by senior officials and regulators during the Lujiazui Forum that took place in June 2020.
Historically, foreign firms had to establish a joint venture with a local entity, however, in 2016 the Chinese government allowed WFOE's (Wholly Foreign Owned Enterprises) to apply for a PFM (Private Fund Manager) License.
Despite the size and scale of China's domestic market, only 32 foreign firms have been awarded a WFOE PFM license.
This article is an update on our previous analysis conducted in May 2020.
Registered Capital
The total of registered capital across the 26 WFOE PFM firms we analysed in May was $333 ml. This has remained pretty static with only 4 firms (Alliance Bernstein, Barings, Two Sigma and BEA Union) increasing their registered capital. Interestingly, Allianz has slightly reduced its registered capital.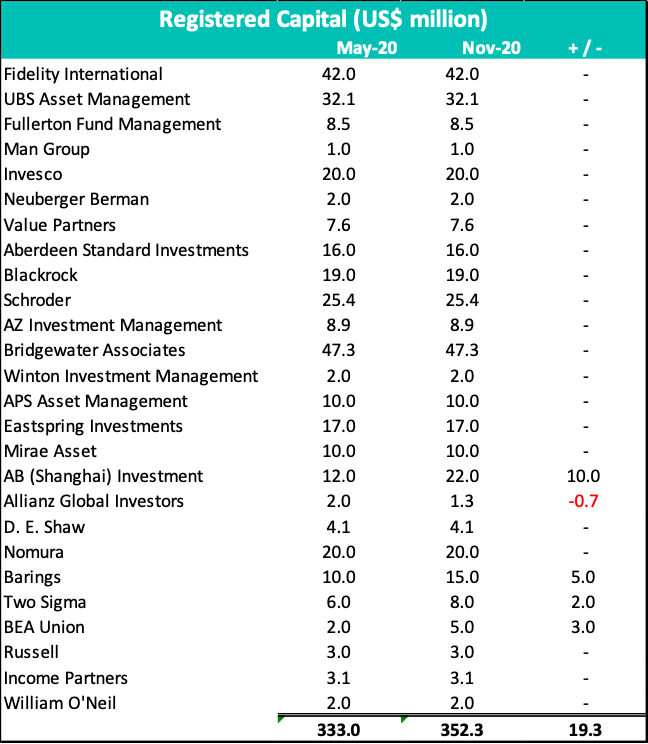 Employees
The number of investment staff across the 26 firms stood at 336 in May.
Staff numbers have grown with 17 funds adding headcount. The largest increase in headcount was within Fidelity, Bridgewater, Neuberger Berman, Eastspring and Mirae Asset Management.
Four firms cut staff but the numbers were small with Invesco, AZ and Two Sigma losing one investment professional and Aberdeen Asset Management losing three.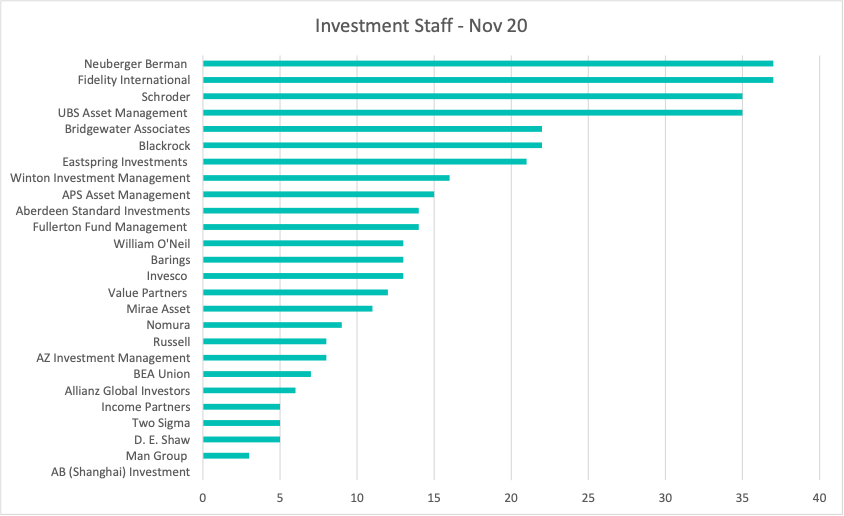 New Entrants
Since our analysis in May, five foreign firms have been awarded a WFOE PFM license:

During that same period (April – November 2020) a total of 248 domestic private funds were registered, bringing the total number of private fund managers in China to 24,574.
The investment management industry is indeed large and growing within mainland China however, the global hedge funds and niche players have struggled to crack the China market.
Understanding Chinese Licences
Funds in China can have two different licences, a PFM licence (which lets a firm offer domestic products to domestic investors) and a Qualified Domestic Limited Partnership licence (which permits a firm to offer foreign products to domestic investors).[1] These licences are granted by the Asset Management Association of China (Amac).
A fund first registers as an Investment Management Wholly Foreign-Owned Enterprise (IM WFOE) with State Administration for Market Regulation (SAMR) then obtains a PFM or QDLP licence (or both) from Amac.[2] Some WFOEs have opted to obtain both licences, including UBS, Blackrock, Aberdeen Standard, and Neuberger Berman.[3]
[1] Foreign firms scramble in fast-changing China
https://international-adviser.com/foreign-firms-scramble-in-fast-changing-china/
[2] Foreign managers continue to move into China
https://fundselectorasia.com/foreign-managers-continue-to-move-into-china/
[3] https://fundselectorasia.com/in-case-you-missed-it-7-september-2018/