For our Christmas special this year, we thought it would be fun to have a look at early websites from the quant universe. It was a simpler time, when flash players flashed and "sites we like on the internet" gave a personal blog like feel to the web visitor. Just the kind of warm, fuzzy, nostalgia you should expect from a Christmas special.
So, in no particular order please find below our top Top 5 along with a complete directory of over 90 quant hedge funds and prop trading firms initial attempts at a website (with links courtesy of The WayBack Machine).
Skip to:
1. Capital Fund Management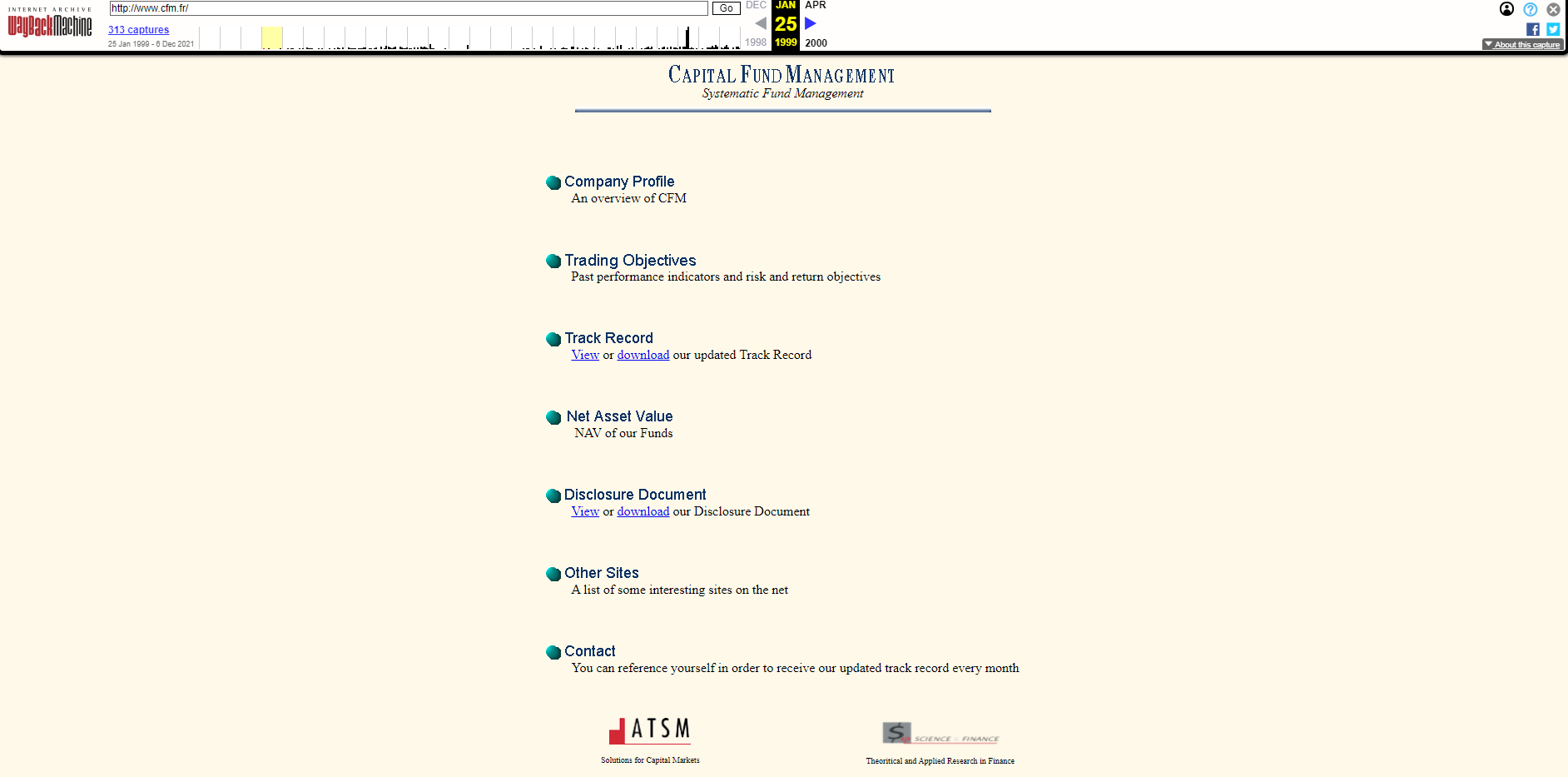 We should start with Capital Fund Management, whose website dated Jan 1999 was fantastic, not least because of the fantastic track record freely available but also because of the Other sites tab with "a list of some other interesting sites on the net" 😊
2. Citadel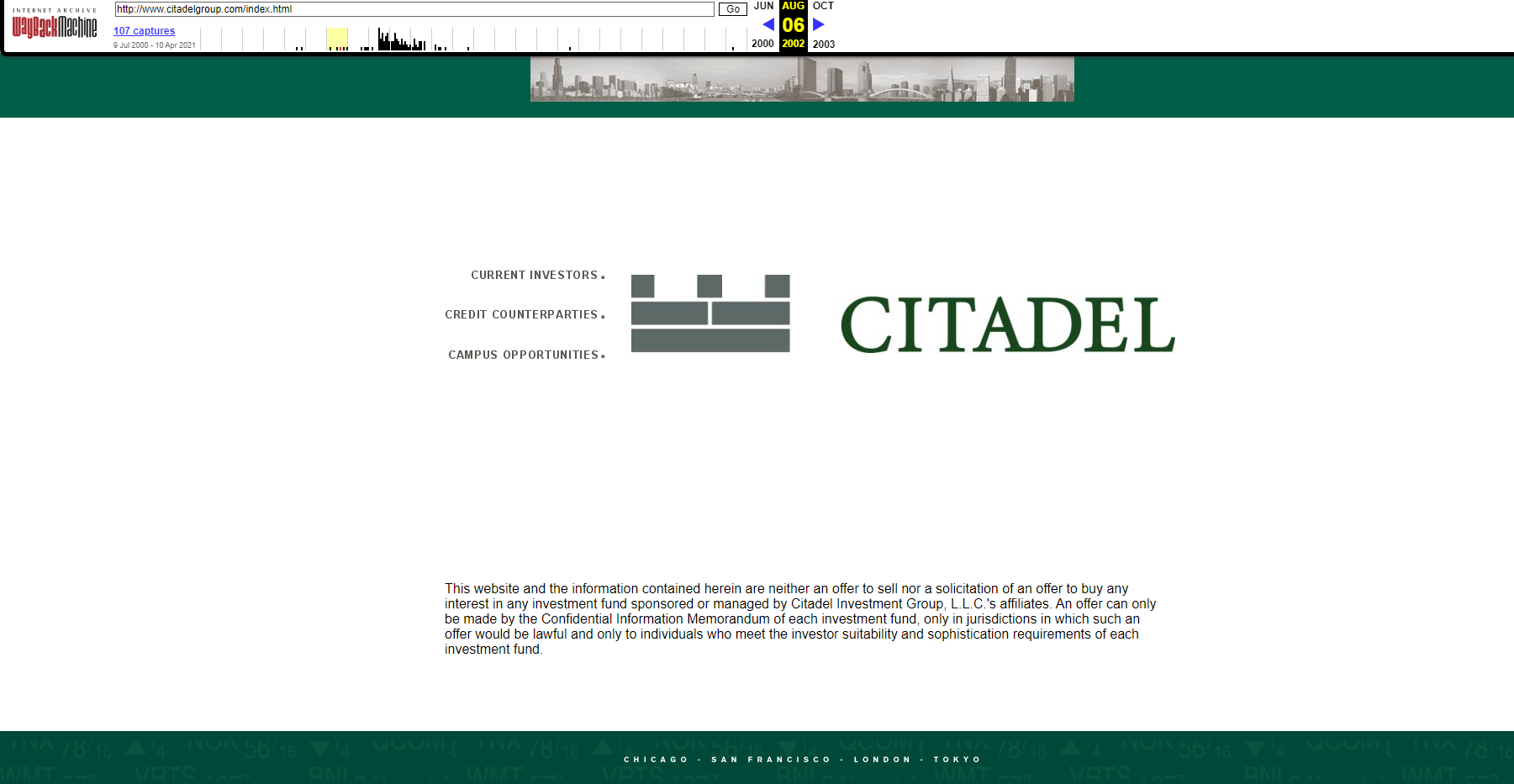 Ken went live with his first domain citadelgroup.com in 2001 (didn't manage to pick up citadel.com until 2013). We do wonder if the green colour theme stemmed from his trading charts or his Irish heritage but it was the right choice to drop it. Interestingly, there was no career / job page included.
3. Tower Research Capital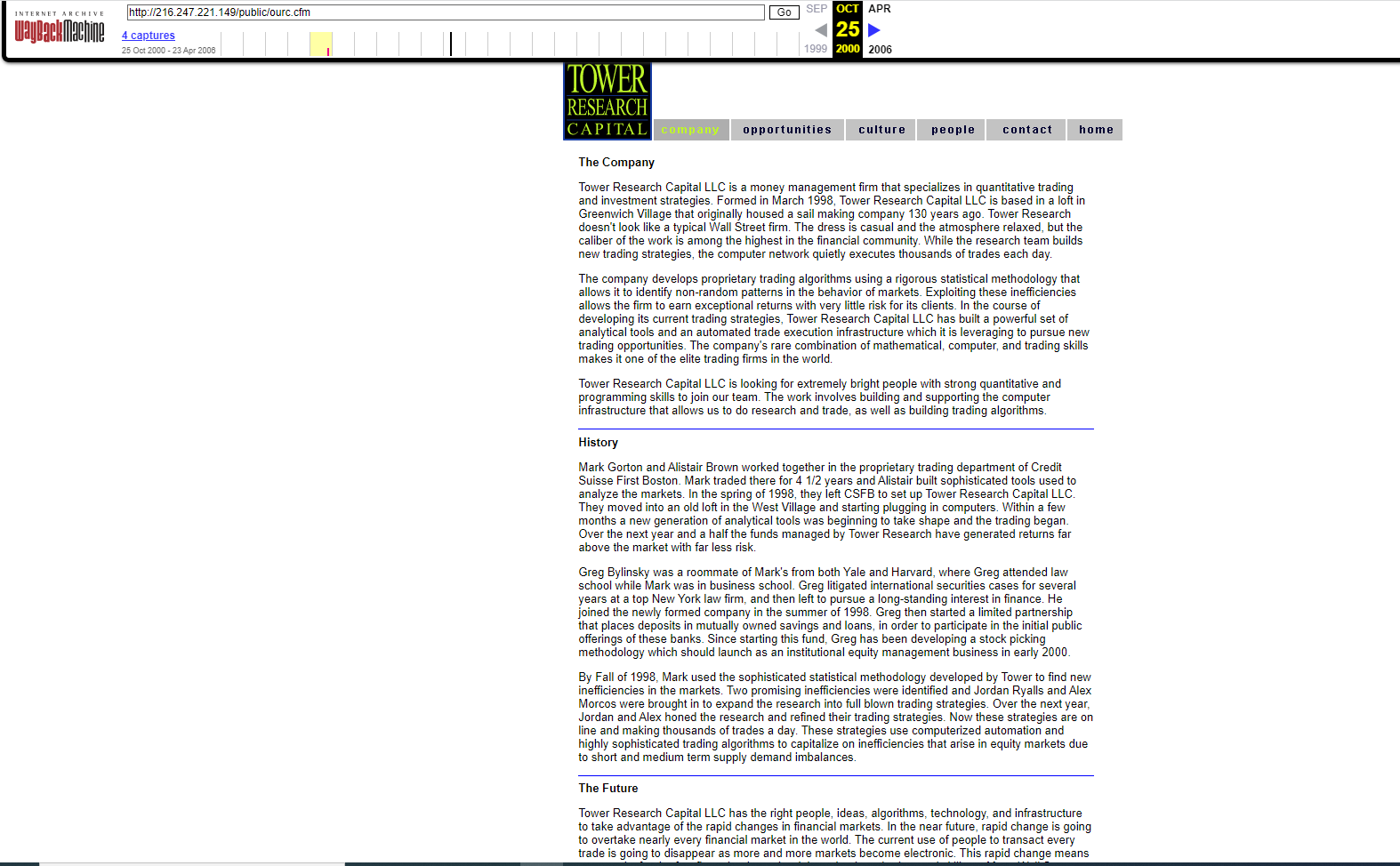 We loved Tower's first website in 2000 for many reasons not least because they included a full list of employees with a little bio – a few names stood out....I bet Mark Gorton regrets hanging that dartboard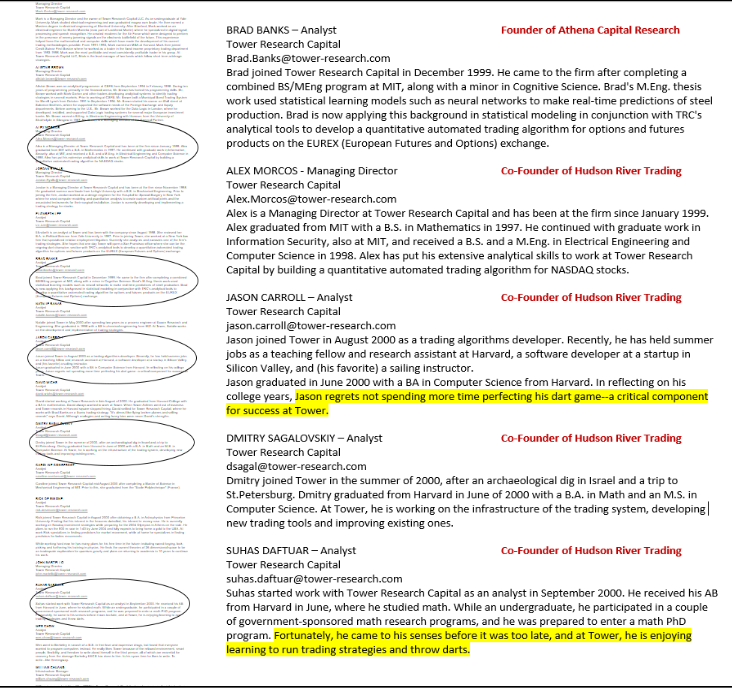 4. Two Sigma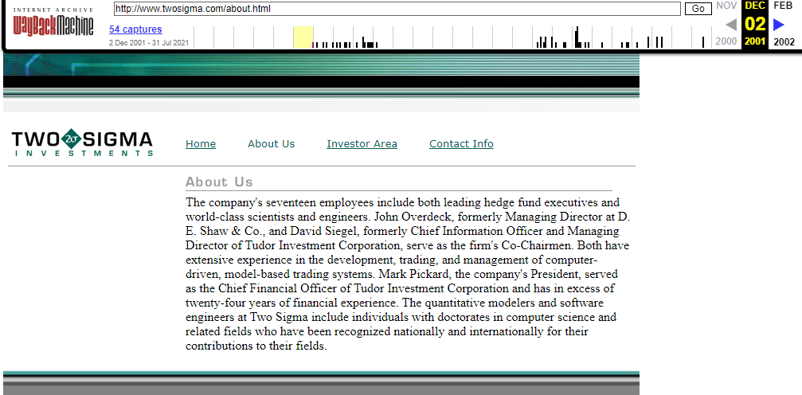 We included Two Sigma's early website as inspiration for all of the small start-ups out there right now. Twenty years on, this 2001 seventeen person start-up, has $58bnl AUM with over 1,700 staff.
5. Renaissance Technologies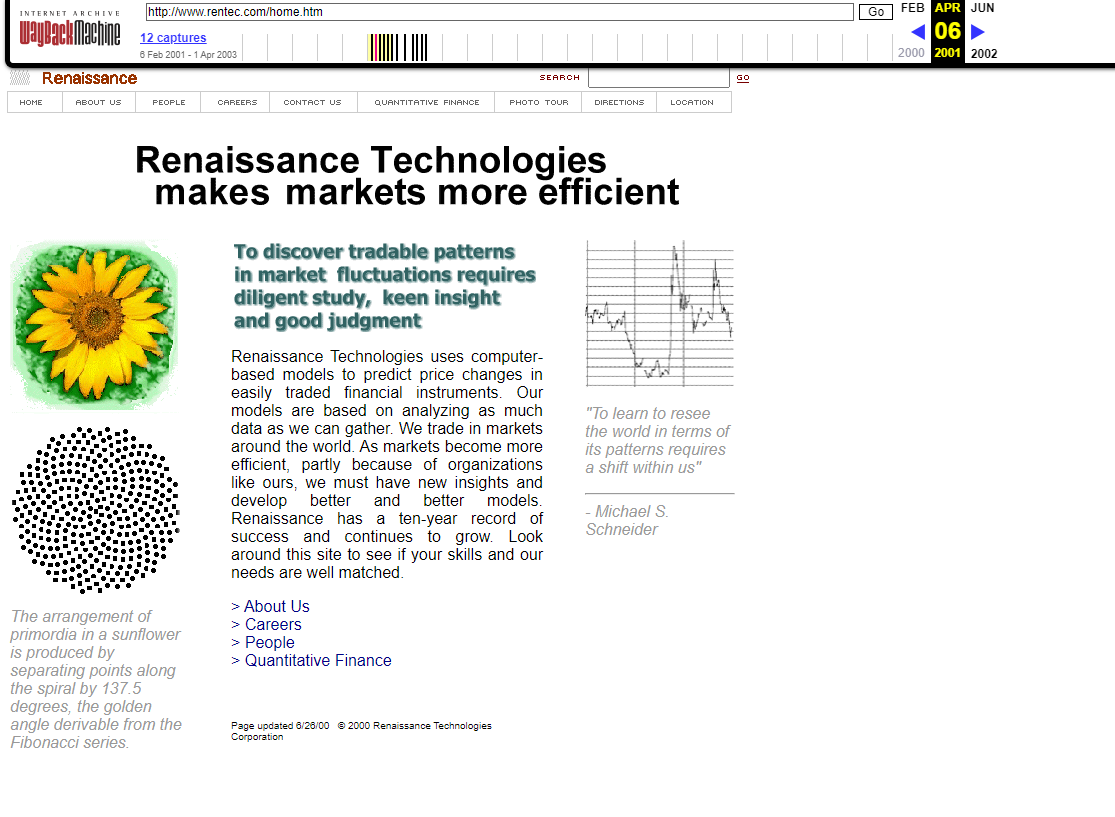 In a characteristically contrarian approach, RenTec's website in 2000 contained far more information than it's current iteration. We love the Fibonacci reference to nature and the page dedicated to East Setauket.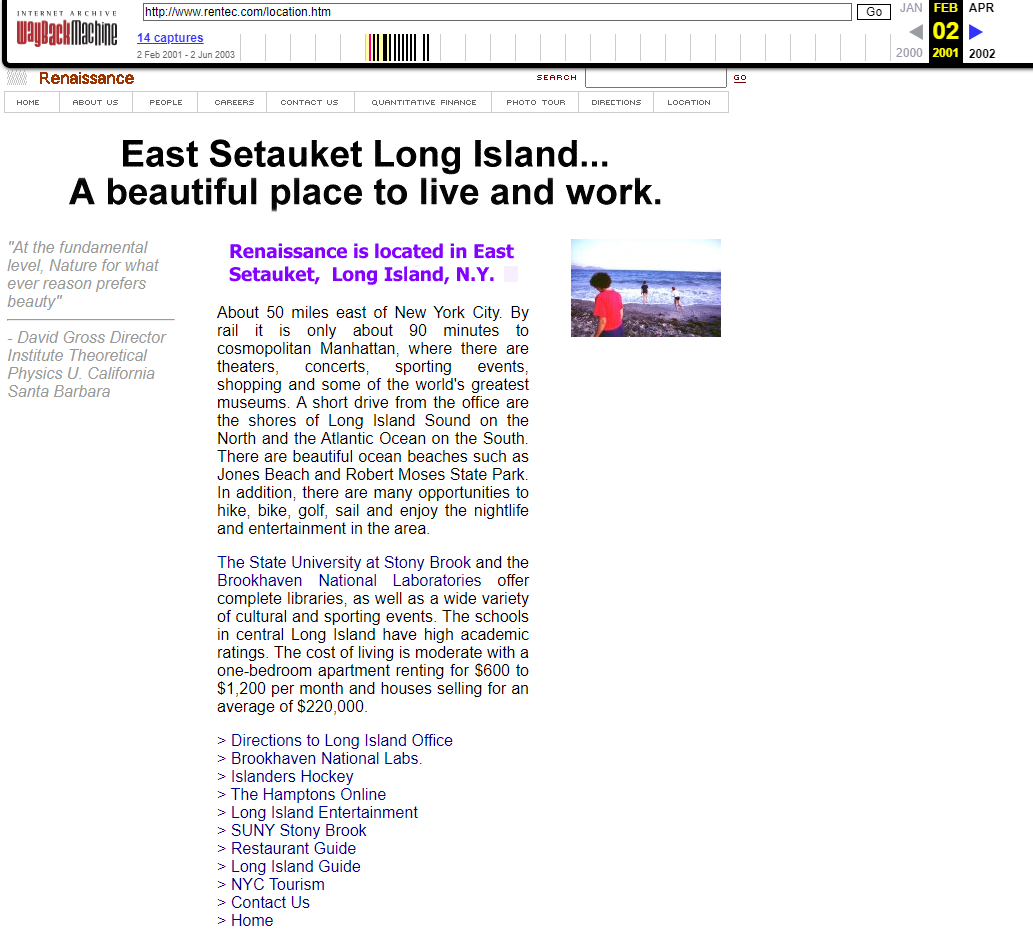 The scientist, rather than hedge fund titan, is clearly on display on this page as they reference the moderate cost of living, a one bedroom apartment to rent from $600 and an average house costing $220,000. I wonder how many average houses Jim could have bought that year.
Ghosts of website past
Below is the URL directory of 90+ hedge funds and prop trading firms website history. The link starts at the first recorded website - you can then flick through to Christmas present. We couldn't find a Christmas future tool but it would probably be something in the Metaverse anyway.
Also, we have the WayBack Machine to thank for all of these lovely snapshots into the past, so if you did just receive a bonus and are feeling charitable, please do make a contribution.
Happy holidays everybody - hope you enjoy !!