The real challenge within a business is often internal stakeholder management. If you fail to identify your stakeholders and meet their needs, your project is doomed to fail.
This article gives you the tools to create a stakeholder management strategy and is a must-read for anyone that relies on others internally to get stuff done.
Download a strategic template here.
What is stakeholder management and how do you identify your stakeholders?
Stakeholder management is where you seek a good working relationship with those who have the biggest impact on your work.
The first step to creating a successful stakeholder management strategy is to define who your stakeholders are.
Ask yourself, whose:
Workflow is being affected
Approval you will need
End product will change
To further help you with managing your stakeholders, use the Mendelow's Matrix (1991).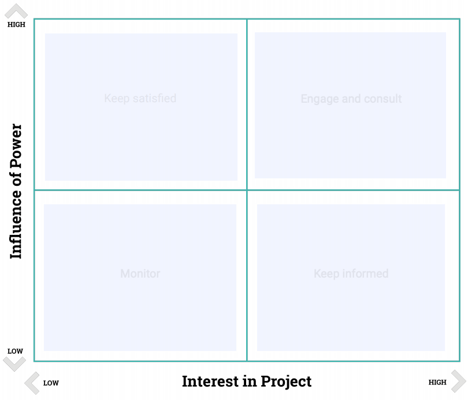 Adding stakeholders to the matrix will help you avoid spending excessive time trying to influence powerless staff and will help you prioritise the needs of certain stakeholders.
Keep those with low influence and high interest informed regularly as long as it's practical for you. Weekly emails should do it.
On the contrary, those with high influence but low interest need more direct strategies from you. These are your key stakeholders!
When you've identified your stakeholders, you need to spend some time thinking about how to engage them. To dig deeper into defining your key stakeholders, see this article.
How to engage your stakeholders - communications worksheet
What level of support do you need from each person on your list? And exactly what do you need from them? How will you persuade them to help you? Think about what they will gain from the project.
In your worksheet, craft a value proposition/key message to each of your most important stakeholders.
Typically there are three dimensions of value:
1. Financial
2. Functional (increasing productivity, being easy and convenient to do business with, providing choice and flexibility etc)
3. Emotional (providing security or a 'feel-good-factor').
Your stakeholders will respond well to one of these dimensions if not all of them.
By identifying what your stakeholders value and what they prioritise, you can connect your concerns to theirs.
How is the problem you are highlighting impacting them? And how can you tailor your message to their preferred communications style?
Understand the different personality types to become a better communicator
When you are better at communicating with your stakeholders, you can save yourself from small mishaps and develop better relationships.
Ultimately, this will make you a better leader.
To understand how individuals communicate and how you communicate, you can use the DISC model.
The DISC model is based on the work of the psychologist William Moulton Marston in the 1920s and is used by organisations worldwide.
In a nutshell, DISC classifies people's behaviours into four types (Dominance, Influence, Steadiness, and Conscientiousness) by looking at their preferences on two scales:
• Task versus People
• Fast-Paced versus Moderate-Paced
Below is a quick overview of the different personality types. More often than not, people are a mix of two/three with one area of the quadrant more dominant than in the others.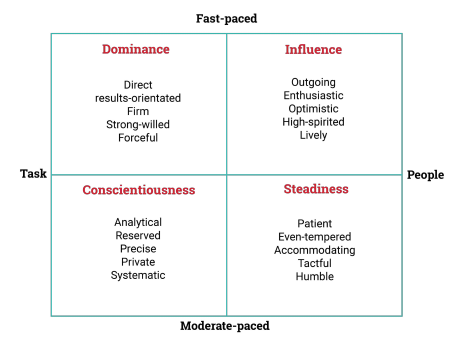 Go to https://www.discprofile.com/ or do a Google search to take the test. Alternatively, download the full list of different DISC personalities here.
What's your persuasion style?
You can be more successful in influencing and persuading your stakeholders if you know what approach to use based on your skills and abilities.
With the persuasion model from Reynolds A. 2003, you can use your level of intuition and influencing approach to best find your negotiation style and ultimately be better at persuading your stakeholders.
The quadrants highlight four different negotiation approaches that may work best for you.
For example, if you have a low level of intuition but you're good at influencing others, the best approach would be to use logic when negotiating.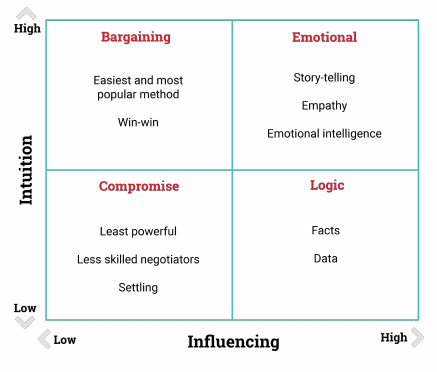 Conclusion
Creating a successful stakeholder management strategy is ultimately about clarifying who you need to influence and how you can persuade those people to help you out. This is best done if you tailor your message to each person highlighting how you, and this project, will add value to them and give them a solution to a problem they might have.
It can also be helpful to think about what communications style your stakeholders prefer. Completing a personality profile as a team can help clarify this.
Last, knowing how to best communicate with different personalities, and how yours might clash with certain ones, is useful to avoid any hang-ups along the way.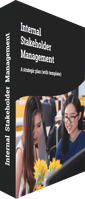 Sources
https://www.forbes.com/sites/jwebb/2017/12/27/how-to-manage-and-influence-internal-stakeholders/?sh=6de457a871a7
https://hbr.org/2011/07/implementing-a-stakeholder-str
https://www.atlassian.com/blog/it-teams/tips-for-getting-stakeholder-buy-in
https://www.atlassian.com/blog/confluence/ultimate-guide-to-stakeholder-management
https://www.mindtools.com/pages/article/newCDV_92.htm
https://www.pmi.org/learning/library/stakeholder-management-keeping-stakeholders-happy-6697#:~:text=Failure%20of%20stakeholder%20management%20can,project%20manager%20to%20be%20replaced.
https://www.mindtools.com/pages/article/newPPM_08.htm
https://www.mindtools.com/pages/article/newCDV_92.htm
https://www.mindtools.com/pages/article/newCS_80.htm