In this article, we examine the professional and educational background of the founders of 34 high frequency trading firms. We have focused on firms that are still in live trading and excluded more recent launches.
Where did they come from?
From our sample, 14 out of 25 of the early founders (pre 2000) of high frequency trading firms had pit trading backgrounds.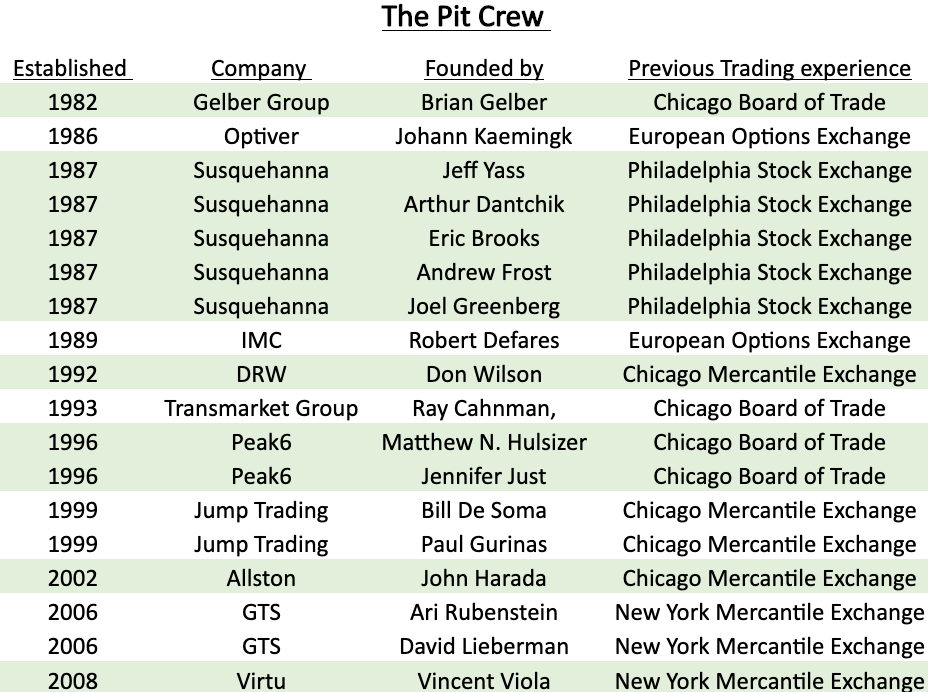 Unsurprisingly, the demise of pit trading correlates with a decline in founders from that alumni with only 4 ex pit traders setting up post 2000.
Allston Trading
Founded by ex S&P floor trader, John Harada, in 2002. Interestingly, pre-Allston John had co-founded Akami Trading with Paul Gurinas and Bill De Soma which later went on to become Jump Trading.
GTS
Founded in 2006 by Ari Rubenstein and David Lieberman who met at Pax Clearing, Ari and David began their trading careers on the New York Mercantile Exchange.
Virtu Financial
Vincent Viola founded Virtu in 2008, however, his first trading venture was Madison Tyler which he set up in 2002. His trading career began in the pits of the New York Mercantile Exchange
Entrepreneurial Alumni
The firm that produced the most amount of HFT founders was….. Optiver.
Established as an options market maker in 1982 by Johann Kaemingk, Optiver has seen 13 former employees leave to set up their own firms.
This list includes:
Flow Traders
Jan van Kuijk & Roger Hodenius
Tibra
Tim Berry, Christian King, Danny Bhandari, Glenn Williamson, Clint Maddock, Kinsey Cotton
*Maven Trading
Ian Toon, Ivan Koedjikov, Ben Huda
Akuna
Andrew Killion& Mitchell Skinner
Vivienne Court Trading
Rob Keldoulis
*Ian & Ivan started their careers at Optiver and after a 3 year stint at Tibra, set up Maven along with Ben.
Optiver has been around for a long time so it's no surprise there are offshoots, however, they do seem to produce a lot more than other similar firms. We have a theory which is based on Optiver's trading style. In comparison to other firms, Optiver is model-driven but allows a lot more trader discretion. This means a trader's edge can be reproduced in their new firms without needing the same infrastructure and/or quantitative firepower thus reducing barriers to entry.
The other notable training ground was Citadel which has seen six former employees go on to create successful firms:
Headlands
Matt Andresen, Jason Lehman, Neil Fitzpatrick
Teza Technologies
Misha Malyshev, *Jace Kohlmeier
Radix Trading
Ben Blander
*although following the Citadel / Teza court case, Jace Kohlmeier was barred from working with Misha. Straight out of college
Although some of the founders mentioned went into the pits straight out of college, only two firms from our sample were established without any previous work experience. Ken Griffin started trading from his dorm room at Harvard and after graduating was seeded by Frank Meyer and at the tender age of 22 launched Citadel. More recently HFT firm DomeYard, was established by three college friends, however, they have failed to follow the trail blazed by Ken. Unfortunately it seems, Ken aside,
that youthful exuberance is no match for a good mentor and solid training.
Education
We studied the academic backgrounds of the founders and found, despite the very technical nature
of high frequency trading, the majority of founders had a background in finance and economics or Mathematics. Even more surprisingly the majority left college with an undergraduate degree. This is changing, however, with more and more recent founders having an advanced graduate level education in a STEM discipline which is understandable given the high entry level requirements for people wanting to get into quantitative trading.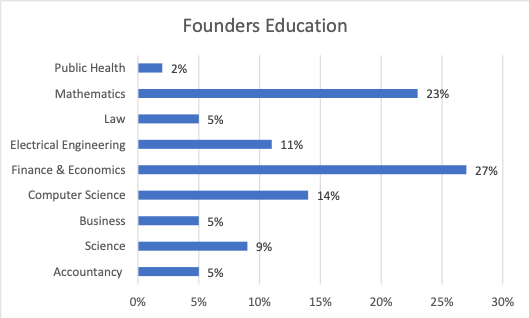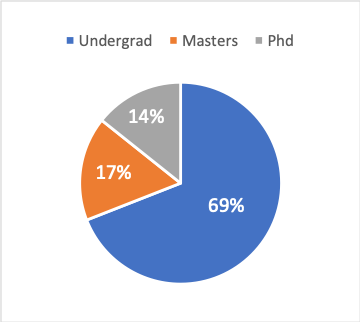 The complete List